First Priority Specialty Cabinets
First Priority Cabinets are constructed from the finest materials and workmanship in the industry. Many smaller competitors and garage based operations claim to make our style cabinets, but only a cabinet built by First Priority cabinet can give you the assurance of quality and resilience when you need it most. We offer our customized "MSU" Modular Slide out Units as well as our customized cabinets.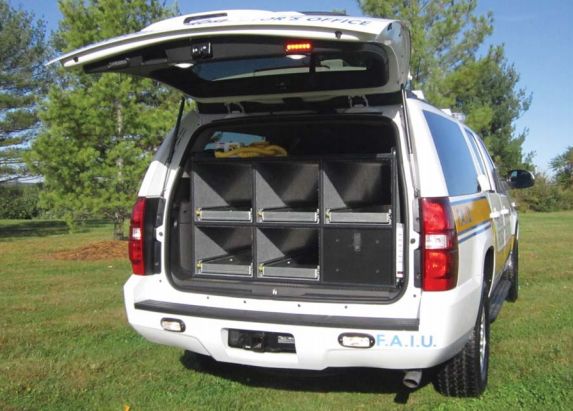 Our Law Enforcement storage line is aimed at giving you immediate access to all of your critical equipment during the times where seconds count. Our storage solutions range from heavy duty aluminum trays for storing pelican cases, entry tools and extrication tools to secure weapons lockers and explosives storage units.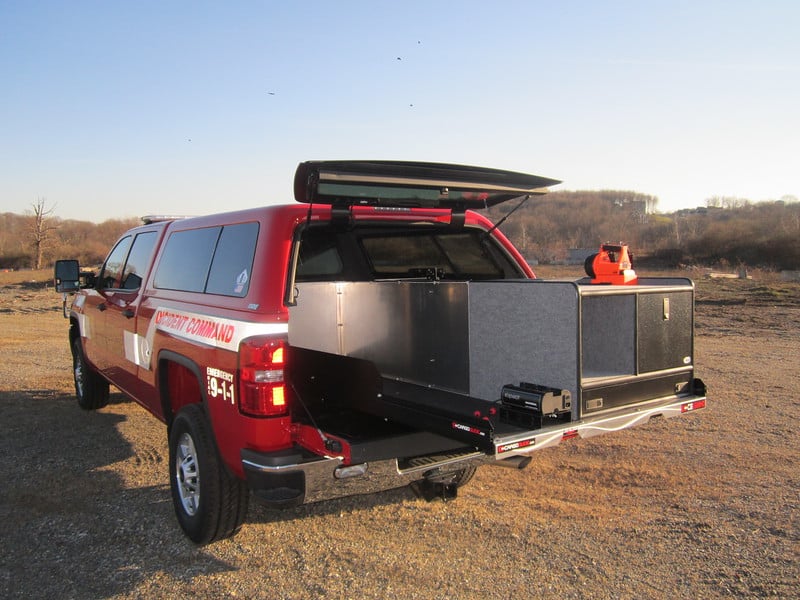 First Priority Fire Command Cabinet line is geared toward keeping all of your fire fighting equipment within arms reach at all times. Our cabinet systems are versatile and maximize equipment storage but not lose sight of your need to perform command operations. Therefore, you will find a number of configurations that combine sensitive electronics with rock solid equipment storage.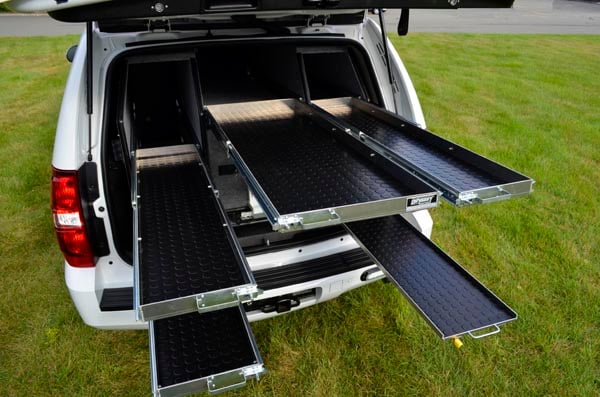 With over 37 years experience, Odyssey™ cabinet systems are constructed from the finest materials and workmanship in the industry. Many smaller competitors and fly by night operations claim to make Odyssey style cabinets, but only a true Odyssey™ cabinet can give you the assurance of quality and resilience when you need it most.
Cabinet Construction
To meet the specialized demands and rigorous use in the field of the emergency services, First Priority's Premiere storage systems and command units are fabricated from specific materials deemed suitable for the mission required by the agencies using them. First Priority Cabinets are constructed from the time tested materials below.
Medium Density Overlay Plywood (MDO):
The entire sub structure our cabinet systems are fabricated from special Medium Density Overlay 7 layer plywood covered with a smooth veneer overlay on both sides. This overlay forms resistance to edge splitting and provides a smooth surface for coverings such as ABS laminate or marine grade carpeting. MDO plywood meets standards of a class III fire retardant rating making it suitable for interior vehicle applications. Water absorption rate of MDO plywood is significantly less than traditional plywood types. OSB board, MDX, particle board and other types of plywood shall be unacceptable.
High Density Polyethylene Plastic (HDPE):
A black composite material with textured finish is used to prevent separation, chips and maximize durability. High Density Polyethylene Material is recognized for its high strength to density ration and makes it versatile in areas like cabinet doors and drawer faces.
Drawer Construction:
Drawers are finished from the same MDO plywood mentioned above and HDPE composite facing. Slide hardware shall be stainless steel, full extension heavy duty slides. Latches shall be positive latching style. In certain cabinets, where higher weight capacity is required, drawers can be substituted with 1/8" or 3/16" aluminum trays.
Latches:
All door and drawer latches are "Positive" locking lever compressions latches made by Southco. These latches are designed to prevent opening while the vehicle is in motion. Each lock has a raised trigger release that creates an ergonomic release for gloved hands and is coated in a durable matte black powder coat finish for resistance to wear. Standard latches are non-locking with optional locking available.
Contact Adhesive Specifications:
Water based, one part fast bonding adhesive designed for high temperature applications. Non flammable with zero flash point. Contains no polychloroprene chemicals. Certified to GREENGUARD for low emitting building materials. Base Acrylic emulsion with 45-51% solids content. Guaranteed boding adhesion in temperatures up to 300 degrees Fahrenheit.
Edges:
Edges are protected with PVC bumper molding a minimum of 1/8" thick installed into a machined slot cut into the edge of the material to protect the edge. Edging is fastened into place by way of a barbed channel that is placed into the slotted edge. For added strength, the edging is held in place by fine wire pneumatic staples every 4-6 inches.
Cabinet Photo Gallery