Tankers
First Priority can offer design configurations to fit each customer's specific needs ranging from the very simple water hauler with no pump, to the full featured pumper-tanker with a full array of options.
The primary purpose of a tanker is to deliver its water supply rapidly, then refill to keep the water supply consistent. KME tankers are designed to make water delivery safe and efficient.
All KME tankers are built from the same base foundation with safety standard on all designs. Body configurations are available in Galvanneal steel, aluminum, 3CR12 stainless, and 304L stainless steel.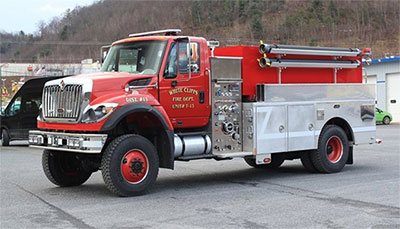 The KME tanker line offers dump configurations with the dump positioned forward of the axle, between the tandem axles, or behind the rear axles, making the unit completely customizable to your specific needs.
Dumps are available in square or round style to fit various budgets and compartmentation. Rear dumps can be configured with a swivel chute or with a removable elbow chute with a support system to keep the operation safe.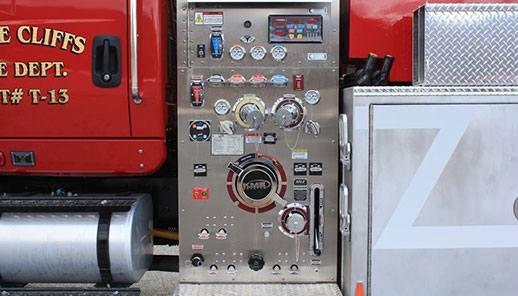 Safety First
Safety is engineered into every KME tanker from the design phase through to completed delivery. Stability is the key to safe and efficient water delivery. KME custom engineers each water tank and body to provide the lowest possible center of gravity with the most functional weight distribution. KME has an on-site tilt table to validate center of gravity calculations. The KME custom chassis also offers total occupant protection with frontal impact air bags, and rollover protection airbags.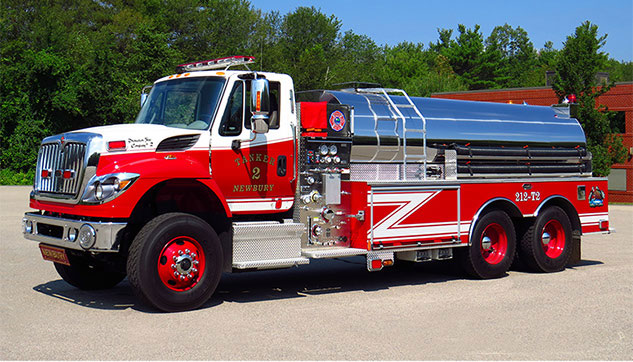 Pumpers Designed to Meet Your Needs
Eliminator Tanker
Eliminator tankers are designed to carry a large amount of water, with unmatched handling capabilities, while still providing the customer with hose storage space and ample compartment options.
The Eliminator tanker line is available in capacities ranging from 1,000 to 4,000 gallons. The unique design of this apparatus moves the tank center of gravity forward to better distribute the weight between the front and rear axles, creating improved handling for safer operations.
The Eliminator pump panel features an organized design that simplifies operations. The angled gauge panel gives the operator an improved view of the controls from the standard operating position, while still keeping the pump panel width as tight as possible. This reduced length pump panel keeps the wheelbase manageable for a better turning radius. See more here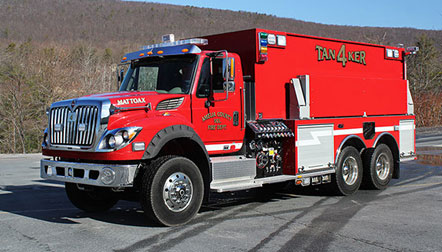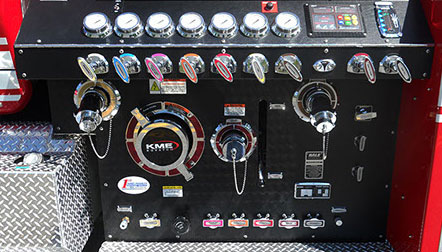 Dry Side / West Side Tankers
Department needs vary in Tankers and specialty options are paramount.
THE DRY SIDE TANKER combines both of these demands on a single unit, while maintaining the high level of safety that you expect. The Dry Side tanker is available on any of KME's custom chassis lines, or any commercial chassis available for the fire market.
We custom enginer each water tank to fit into the body in the tightest possible space. This customization eliminates wasted space while providing a safer apparatus with a low center of gravity. Single axle Dry Side tankers are available with up to 2000 gallons of water, while tandem axle units can carry up to 4000 gallons of water.
THE WET SIDE TANKER range from 1,000 to 4,000 gallon capacity, offering a low center of gravity and short wheel base. While the tank acts as the upper body, the lower fire body compartmentation is solidly constructed from the customer's choice of Galvanneal steel, aluminum, 3CR12 Stainless, or 304L Stainless Steel.
Variations:
Legacy Series: featuring one compartment forward of the axle on each side.

LX Series: featuring compartments forward and aft of the rear axle(s).
The KME Wet Side tanker can be built on KME's custom chassis line, or any commercial chassis available in the fire market. A wide range of pumps are available from 250 gpm up to 1250 gpm, in traditional midship locations, or packaged inside the front body compartment to reduce length and wheelbase. Dumps are available on the rear, as well as each side of the apparatus behind the rear axle.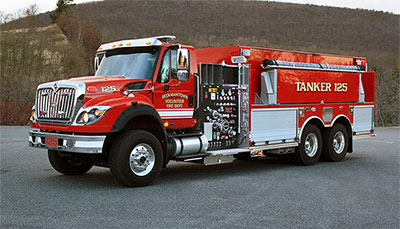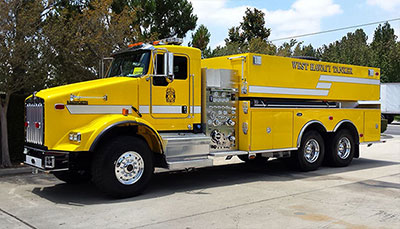 Classic Eliptical Tanker
KME offers a full line of elliptical tankers ranging from the simple water hauler with no pump, to the fully load tanker with a pump, pre-connects and hose storage areas.
All tanks and apparatus are designed to exceed NFPA 1901 requirements; keeping firefighters safe is our top priority. Our Elliptical tanks utilize baffle designs that help ensure safe operations while driving the apparatus full, partial or empty of water. Tanks are designed to provide rapid filling and dumping of water.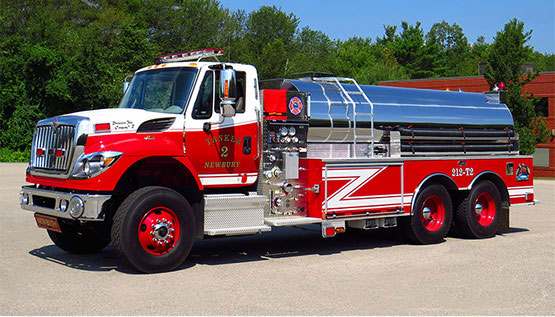 Photo Gallery