Services
Road Service

Comes To You.
Whether it be at your station, your municiple service center on our on the road with a breakdown, we can be there for you.
As part of our service and maintenance group and services we come to you.
Our service centers are fully­ equipped to handle all of your ambulances, fire apparatus and specialty vehicles service needs. Our technicians are factory­ trained, EVT and ASE-certified.
This factory training includes instruction for most major component manufacturers, including Hale, Waterous, Harrison, and Onan to name a few.
We repair all makes and models of fire apparatus. We outfit our field service technicians with fully­ equipped mobile service units to handle your service needs in the station, or on the road in an emergency, or at an emergency event. All of our conveniently located service centers offer 3rd party pump & aerial testing.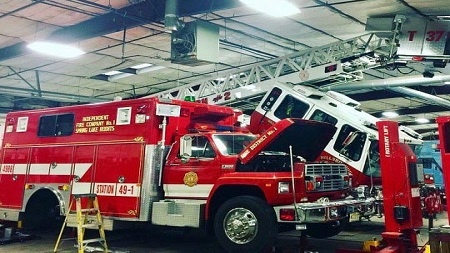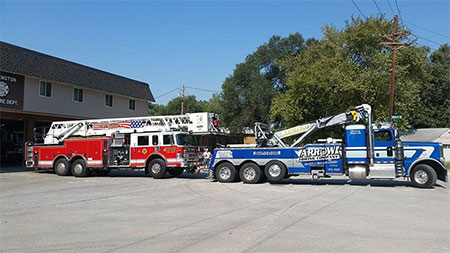 Body Shop & Repair
First Priority is a full spectrum vehicle repair center specializing in the maintenance of ambulances, fire apparatus and specialty vehicles from all manufacturers. Our expert staff is dedicated to fast, efficient and cost effective vehicle repair of any type or magnitude.
Fire Service

Repairs & Maintenance

Full Repairs

Body Shop

Body Frame Realignment

Bed liner

Soda Blasting

Refurbishing and Restoration

Buffing

Custom Metal Fabrication
First Priority is an authorized sales and service center for:
KME

Braun

Demers

Darley Sales & Service

Weldon V-mux

Foam Pro

Harrison Generator

Waterous Pumps

Hale Pumps

Ranger Design
Body shop & repair features:
Free estimates

Pick up and delivery available

Towing available

Loaner vehicles for insurance claims (subject to availability)

Work with all insurance companies

Heavy duty auto body endorsement license #000048

State of the art 5 lens camera for superior color matching

Custom paint designs

Ppg delfleet certified paint system

Ppg certified technicians

Heavy duty frame straightening

48 ft semi downdraft spray booth

KME Fire authorized repair center

Braun & Demers ambulance authorized warranty center

Complete graphics design shop on premises for custom ,replacement or additional graphics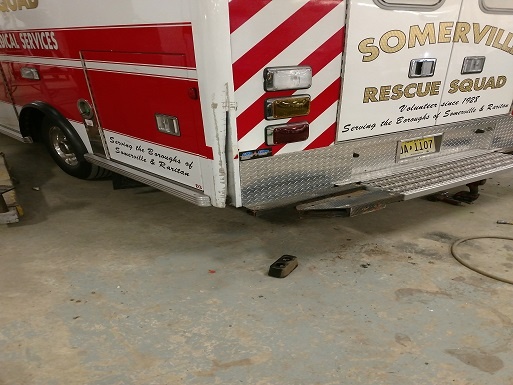 Before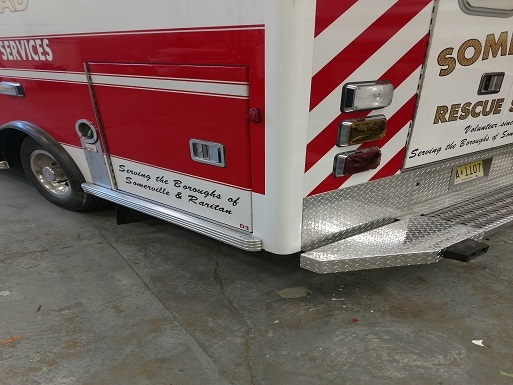 After
Maintenance
Proper maintenance is crucial to equipment and vehicles being ready the instant they are needed. We can handle the maintenance scheduling, performance and record keeping for you.
Engine, Chassis , Transmission, Brakes, Electrical System, and Specialized systems maintenance are just a few of the areas we're experts in.
We can offer you custom designed Fleet Service Contracts for every type of vehicle and service from Security and Law Enforcement vehicles to Fire Apparatuses from EMS to Aerial Ladders.. You never have to worry about service and documenting the upkeep again.
Custom Fabrication is done in house. We have a dedicated staff of employees that are Certified welders in steel and aluminum, providing your Department or Squad with true custom tool mountings, Fixed shelves, roll out tool boards, swing out tool boards, and roll out-tilt down shelves built to your specifications. Custom Trays, bins, toolboxes, brackets, straps, racks, etc. All mounts can be painted to match cab or compartment color .
We can also offer a full range of generator services and pump maintenances and rebuilds.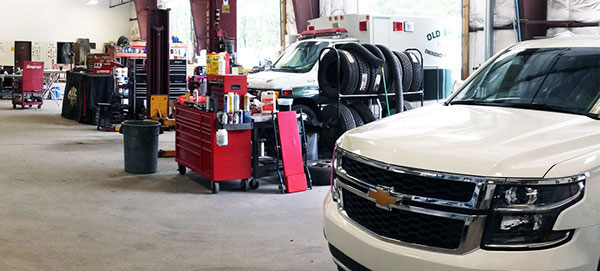 Preventative Maintenance
Engine – Oil Level, Oil Filters, Oil Leaks, Cooling System Fluid Levels, Coolant Filter, Coolant System Hoses, Coolant Tested, Fuel Filter, Air Filter, Belts, Motor Mounts, Exhaust System, Air Compressor Filter, Air System and Drains, Emergency Shutdown and Shutter Operation.
Chassis – Lube Chassis, Clutch Linkage, Check Drive Line, Differential Fluid Level, Gaskets and Seals, Mounting Bolts/Body, Axle Studs and Nuts, Springs and U Bolts, Shackle Pins, Shock Absorbers, Tires, Wheels and Lug Nuts, Fuel Tank, Power Steering Fluid Level/Filter/Pump, Hose and Filters, Drag Link and Assist Cylinder, Tie Rod Ends, King Pins, Steering Gear Box Assembly and Gear Box Mounting Bolts.
Transmission – Fluid Level, Shift Linkage (Manual), Gaskets and Seals, Lock-up System, Filter, Cooler, PTO.
Brakes – Fluid Level, Low Air Alarm, Governor, Leakage, Tank Drains, Air Dryer System, Alcohol Evaporator, System, Moisture Ejector, Parking Brake, Brake Lining and Adjust, Brake Chambers, Tubing/Lines/Fittings and Drums/Rotors.
Electrical System – Starting System, Onboard Air Compressor, Charging System, Battery Condition, Battery Load Test, Alternator AMPS Output, Warning Lights, Sirens, Ground/Step Lights, Pump Panel Lights, Compartment Lights, DOT Lights, Gaskets and Seals and Axle Bearings.