Mobile Command Centers

First Priority Emergency Vehicles manufactures and designs mobile command vehicles that can be reliable on the road. These mobile command centers focus in on comfort, technology, storage and meeting space. Typically, we convert Ford Transit or Mercedes Sprinters into custom mobile command centers to fit our customers needs.
We are committed to transforming a vehicle's space to fit the unique needs and specifications of your business. Mobile Command Centers are able to be integrated and utilized by numerous businesses and industries for various different purposes such as: showcasing new products and services, consolidation of employee work time and commutes, express servicing of clientele and community members, as well as vehicles used by utility companies and the service industry.
Mobile command centers can be utilized as communication hubs during emergency situations such as bomb threats, demonstrations, fires or natural disasters. They can also be used to conduct strategy meetings or recruitment.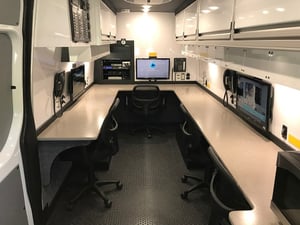 These vehicles can be used for:
Surveillance Vans

Medical Labs

Recruitment Vans

Tactical Vans

Crime Vans

& More!

Photo Gallery