First Priority GreenFleet:
Services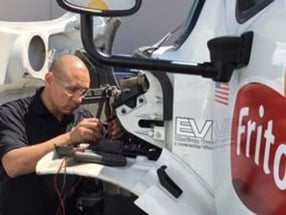 Service and Maintenance
First Priority GreenFleet offers a comprehensive service and support program developed specifically for the Battery Electric (BEV) & Alternative Fuel (AFV) end user. We are currently servicing & supporting several large fleet customers such as UPS, Fritolay & PG&E. Our service and support programs have proven & reliable track records as we continue to support some of the most demanding fleet customers in the world. We currently support over 150 BEV & AFV vehicles in the US with that number on schedule to increase well over 200 vehicles before the 4th quarter of 2016.
We offer a variety of service & support programs including but not limited to:
Vehicle Introduction and familiarization training programs

Fleet mechanic training for Level 1/Tier 1 services such as general repairs on BEV/AFV platforms including non FPGF/EVI product lines

Driver/Operator training programs, including efficient driving techniques to optimize efficiency & range

A mobile service & repair network covering Northern Ca, Southern Ca & New Jersey

PM maintenance programs for Level 1, 2/Tier 1, 2 High & Low Voltage systems

Service Centers Located in New Jersey, Northern Ca & Southern Ca

Service and support programs specifically developed to provide an alternative support network to customers who can no longer get support from their OEM BEV and AFV vehicle manufactures

Contract Vehicle Manufacturing
How does a start-up company, small volume manufacturer or vehicle up-fitter handle building a prototype, first article or volume production? Make FP GreenFleet your manufacturing partner.
One of the challenges for any start-up is, while your core staff is focused on developing technology, you need to build vehicles to demonstrate it. Do you take your team off of critical development tasks and projects to fabricate and assemble (probably not their strength) or hire additional staff to build a handful of vehicles only to let them and their newly acquired knowledge of your IP go after the project is complete. Our expert staff and world class manufacturing facility is here whenever you need it. Our facility is large enough to isolate your project, restrict access and protect your IP.
Making the leap from R&D to production is a huge financial investment many companies do not have the wherewithal to make pre-revenue. FP GreenFleet is a cost effective alternative to bridge the gap for your company until it the right time to expand your own internal capabilities.
Received an order that out strips your capability or you're already at full capacity? Let our capacity be your buffer so you can meet your customer's expectations and maintain the delivery schedule for all of your projects.

Vehicle Design
OEMs, upfitters or end users with a desire to offer benchmark electrified vehicles can receive support from First Priority GreenFleet to develop vehicles integrating advanced vehicle technologies, components, and control software into custom-built prototype, proof-of-concept, and demonstration vehicles.
In a turnkey approach, First Priority GreenFleet can:
Perform a market assessment

Explore customer requirements

Design, specify, build, and test a prototype

Help construct multiple pre-production pilot models
During this process, First Priority GreenFleet can specify and integrate all major components, systems, and subsystems, including motors, power electronics, controllers and control software, battery modules, and voltage systems within the vehicle architecture.
Gaseous Fuel Conversions
Conversions for medium and large-sized fleets
First Priority GreenFleet offers conversion services to medium and large sized fleets. FPGF can evaluate your existing fleet and offer solutions to help your company reduce your carbon footprint and GHG emissions, including toxic particulate emissions, decrease your dependence on foreign oil, and curb any vulnerabilities to fuel price fluctuations. FPGF can convert a dirty fuel-guzzling fleet into a green and energy efficient fleet using our modular and scalable Powertrain. We tailor each conversion so that our customer qualifies for local, state, and federal tax incentives.
Custom Conversion
Each conversion is unique and dynamic, tailored by First Priority GreenFleet to each customer's individual requirements.