About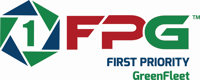 First Priority GreenFleet is a leading provider of end-to-end clean transportation solutions in the United States and the only independent commercial electric vehicle service organization covering both coasts. Our array of options for both manufacturers and commercial fleets is unique in the industry. We work with OEMs, powertrain suppliers and a wide-array of bodybuilders/upfitters to provide fleets best-in-class sustainable transportation solutions.
First Priority GreenFleet is a subsidiary of First Priority Group, a 20-year industry leader as a diversified manufacturer, dealer, upfitter and service provider to the First Responder and Specialty Vehicle markets. As a market leader in its four divisions--EMS, Fire, Conversions and Clean Transportation Solutions, First Priority's range of expertise encompasses design, manufacturing, service, fleet management and infrastructure installation to provide end-users with a comprehensive one-stop shop solution across their specialty vehicle needs.
Our Focus
Provide a unique one-stop shop to our customers and partners
Provide industry leading training and on-going service and support
Capture any and all available grants, incentives and funding opportunities for our customers and partners
Infrastructure/Site Analysis and installation of networked, smart-charging EVSEs
Route Analysis and duty-cycle validation for assurance of proper vehicle specifications and ultimate deployment sources
Data collection, reporting and ROI Analysis
Work with local utility provider to minimize electric charging costs
V2G, exportable power and extended-range/disaster recovery vehicles and technologies
Decommissioning, end of life and repurposing services
That's the GreenFleet Difference!