Aerials
KME Ladders Lead the Fire Service in Design, Performance, Safety and Operation.
First Priority is proud to be partners and a top sales leader for KME.
Rearmount Ladder, Rearmount Platform, Midmount or Trailer Drawn the KME Solution from First Priority will meet your needs.
Superior Design And Manufacturing
All KME aerial bodies feature a 3/16" aluminum formed body that provides both the strength demanded of an aerial body and the flexibility of design. KME utilizes an underslung body-mounting system. This design distributes loads to the body mounts and frame rails allowing for them to be accommodated by the strongest portions of the vehicle which yields extraordinary reliable body integrity.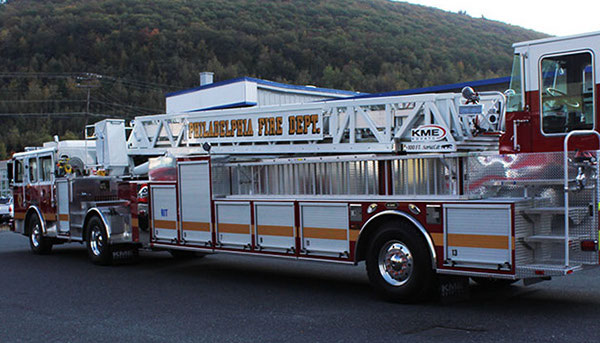 Superior Innovation
KME achieves better aerial performance by constantly engaging the fire service on its needs for increased performance and simplified operations. Through a continual improvement process, we offer features like true 1500gpm flows on ladders and up to 3,000gpm on platforms.
We also offer safe platform access from the ground while the aerial is fully retracted. Our ladders feature a floating waterway that can be electrically deployed at the ladder tip for water operations, or at the second section for rescue operations.
Superior Safety
KME aerials feature a standard electronic motion control system with an easy-to-read color monitor that displays critical information to both operators at the turntable and in the platform. The system also provides cab and body avoidance and short jack operations. All aerials feature the handheld outrigger tether, which allows the operator to safely view all outriggers in motion. In addition, the aerial turntable is designed with plenty of room for the operator, fire personnel and rescued persons to transition onto and off the aerial safely. The KME aerial also features the fire service's largest heel pin step to provide a safe transition to and from the ladder.

Whether you are transitioning into a platform or climbing the 123' ladder, KME aerials provide the deepest and widest fly section of any aerial, giving you the confidence to climb. KME's rung covers feature an aggressive gripping surface for both your hands and feet, regardless of the weather. Each rung cover also features photo luminescent bands that help orient you in low-lighting conditions. If you desire additional illumination, KME also offers full-length LED Pathfinder™ walkway illumination lights for excellent night visibility.
Photo Gallery